Product Details
Armour Layer: Aluminum Alloy Interlocked Armour
Conductors: Solid/Stranded Copper or Aluminum
Cores No.: Single/two/three/four or according to your requirements
Insulation Layer: XLPE
Outer Jacket: PVC
Maximum Temperature Rating: -40°C to 90°C
Maximum Voltage Rating: 600V/1-35KV
Features
Rated at 90°C dry
Excellent crush resistance
Provides long service life
Cost effective alternative to installations in conduit
PVC coated MC cable Applications
• Direct burial applications, installation in concrete and where exposed to cinder fills, strong chlorides,
caustic alkalis, or vapors of chlorine or of hydrochloric acids.
• Branch, feeder and service power distribution in commercial, industrial, institutional, and
multi-residential buildings.
• Fished or embedded in plaster.
• Concealed or exposed installations
• As aerial cable on a messenger.
• Installation in cable tray and approved raceways.
• Class I Div. 2, Class II Div 2, & Class III Div. 1 Hazardous Locations.

Why choose Huadong to buy PVC coated MC cable?
PVC coated MC cable refers to Aluminum alloy interlocked armoured cable with PVC jacket. If you just need PVC jacketed MC cable, choose Huadong Cable Group. Huadong Cable Group is one of leading PVC MC cable manufacturers in China. We specialize in producing various kinds of cables, especially PVC coated MC cable. Compared with other PVC jacketed MC cable manufacturers, we have many advantages worth choosing for you. We can guarantee that we have the most competitive PVC coated MC cable price for the same quality of PVC coated MC cable. The same PVC coated MC cable price, our PVC jacketed MC cable quality is the best. At the same time, if you need a lot of PVC MC cable, we will give you a discount PVC coated MC cable price. Now leave your message and .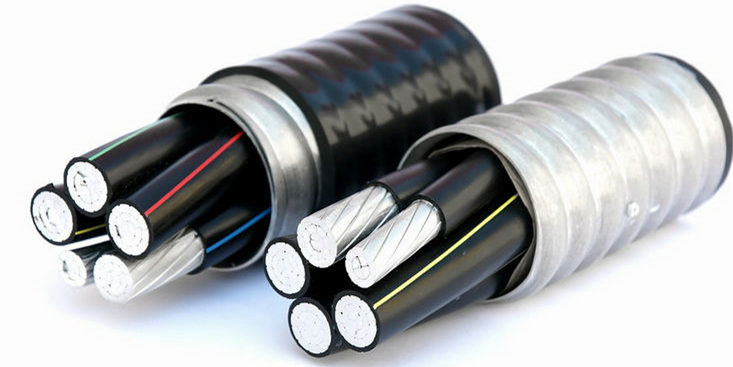 What are the performance advantages of PVC jacketed MC cable?
The reason why PVC MC cable is popular is that it has excellent performance advantages. First of all, the armour layer of the PVC coated MC cable is aluminum alloy interlocking armour, it is very light. And PVC jacketed MC cable is easier to install than steel wire armoured cable. Moreover, the strength of PVC coated MC cable is almost the same as that of steel wire armored cable. PVC MC cable is not only suitable for dry environment, but also for wet environment. PVC coated MC cable has a wide range of applications. If you want to know more, please feel free to contact us.

Using PVC coated MC cable also saves the cost of laying pipes or laying trenches. This is an advantage of PVC MC cable that can't be ignored. You can save a lot of PVC coated MC cable if you buy Huadong PVC jacketed MC cable. If you have any other questions, please feel free to contact us. Welcome to visit our PVC coated MC cable factory. Sincerely look forward to your inquiry. I hope we can have pleasant cooperation in the coming time.

Huadong PVC MC Cable Factory Display


Why Choose Us?
Product Process: Our PVC coated MC cable use the high quality aluminum/annealed copper/ aliminum alloy conductor material and natural XLPE (cross-linked polyethylene)/PVC polyvinyl chloride insulation material. Every production process has been strictly checked by our professional technical engineers.
Package & Delivery: PVC coated MC cable package by iron or wooden drum or according to client's requirement.
Customer Case: Our PVC coated MC cable products have been exported to more than 30 countries, such as: Russian, America, Yemen, South America, North America, Middle East, Africa, Asia, Oceania countries, etc.
Please feel free to leave your requirement. We will reply you within 12 hours.
Email: sales@huadongswacable.com